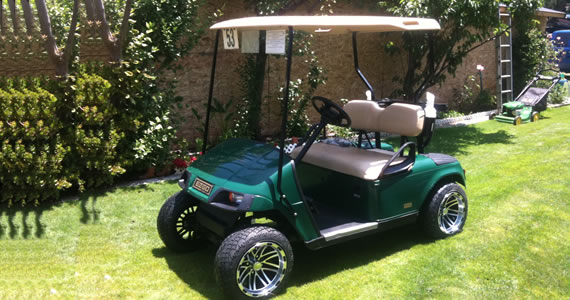 About Us
Jr's West Coast  Golf Carts has been in the golf cart industry since 1996, offering the customer knowledgeable advice to best match them with a golf cart according to their individual needs. Jr's West Coast  Golf Carts sells and services all makes and models of golf carts such as Yamaha, EZGO, and Club Car, in both gas & electric models. We even provide the larger Utility Vehicles like John Deere Gators , Pro Gators and Toro Workmans. We also have in stock multiple turf equipment in stock ranging from mowers, sandpro's, tractor's etc.
Jr's Golf Carts also carries a large inventory of parts so we can provide prompt, reliable,. and affordable service for our customers. Please see Service, and Repair for more information.
Pickup and Delivery services are available for our customers convenience. Jr's West Coast  Golf Carts  has trucks on the road daily delivering and servicing golf carts along many locations throughout CA. Free quotations on service repairs are provided for your convenience. Trade-ins are also accepted.